Saturday 04-July-2015, 20:33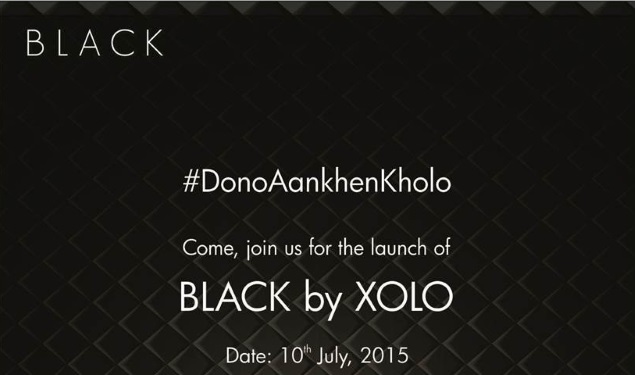 Xolo has started sending invites for the launch of its new sub-brand 'Black' on July 10. The company is expected to launch its first Black-branded smartphone at the event.
As NDTV Gadgets had earlier
reported
, the new Xolo Black smartphones would not be sold via traditional retail channels instead will be an available online via the company's Flipkart e-commerce partner.
The first Xolo Black smartphone is
expected
to with a dual rear camera setup with depth-sensing support, similar to the one seen in the
HTC One (M8) . This means, with the right software, users could point smartphone's camera at real-life objects and find their dimensions in an instant, and do other cool things like refocusing pictures after they've clicked them.
The company back in May had revealed that its first Black smartphone will feature Hive UI 1.5, an update to the company's in-house UI, which is now built on top of Android Lollipop. It will also have 4G support and will be priced in the "sub-Rs. 15,000 segment."
While the Black range might not be competitively priced to take on Micromax's Yu products or even Xiaomi's Mi devices, [url=http://gadgets.ndtv.com/mobiles/xolo-phones]Xolo
expects that it can do better in a market such as India.
The company has been lately teasing its Black smartphone series via social channels including YouTube for video teasers. Last week, Xolo confirmed that it will be selling the Black-branded smartphone via Flipkart.
Earlier this week, Xolo
launched a new variant of its Cube 5.0 smartphone
with twice the memory as well as a better front-facing camera, priced at Rs. 8,888. The major difference between the [url=http://gadgets.ndtv.com/xolo-cube-5-0-2726]Cube 5.0 (2GB) and Cube 5.0 smartphone is that the former featured 2GB of RAM while the latter pack just 1GB of RAM. The new Cube 5.0 (2GB) also sports a 5-megapixel front-facing camera while the Cube 5.0 came with a 2-megapixel front camera.
http://gadgets.ndtv.com/mobiles/news/fir...gadgetstop