Saturday 04-April-2015, 08:57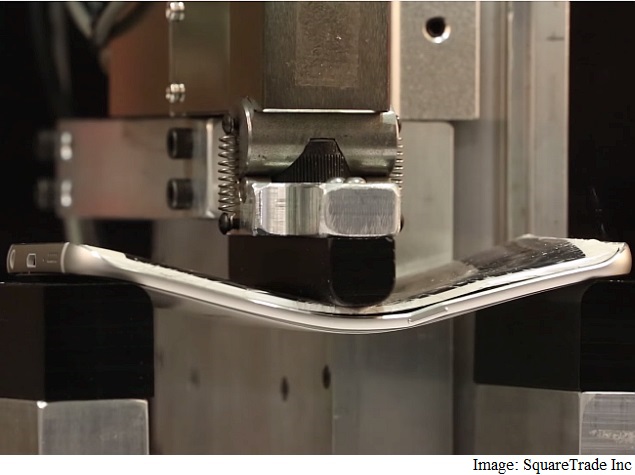 The famous bendgate videos and memes may just start doing the rounds of the Internet again, and this time it's not Apple and its new larger iPhone models that are the butt of the joke. SquareTrade, an extended warranty service provider for consumer electronics, has come out with a video showing the Samsung Galaxy S6 Edge being put through a bend test alongside the iPhone 6 Plus and HTC One M9.
The video shows that the Galaxy S6 Edge bends as much iPhone 6 Plus; though the former's screen broke due to excessive pressure applied, something that was not reported for the Apple's biggest iPhone last year. The approximately 2-minute video also shows the HTC's new flagship put under bend test.
According to SquareTrade, the iPhone 6 Plus started bending when 110 pounds of pressure was applied. It reached its breaking point at 179 pounds of pressure. The HTC One M9 bent at 120 pounds of pressure, and that was also its breaking point.
The Galaxy S6 Edge, similar to the iPhone 6 Plus, bent at 110 pounds of pressure. The dual-edge sporting smartphone's screen cracked at this point, which was not the case for the iPhone 6 Plus. Even with a broken display, the Galaxy S6 Edge worked, and the phone finally broke at 140 pounds of pressure.
https://www.youtube.com/watch?v=3Y7tPczbOec
http://gadgets.ndtv.com/mobiles/news/sam...ort-677633